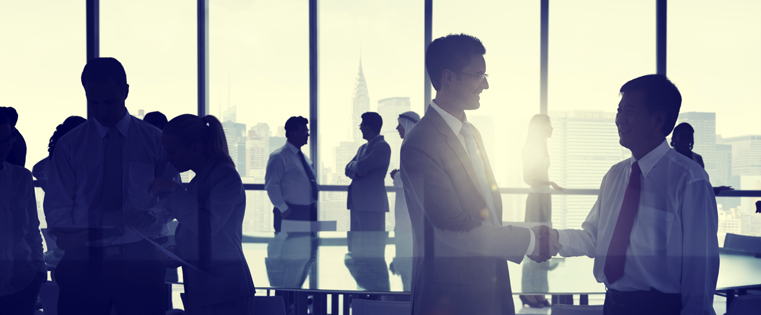 Have you ever walked into an office — your own, a friend's, or somewhere you were visiting — and immediately felt like that was precisely where you wanted to be? People are working, going about their business, and they're happy … at their day jobs.
That, my friends, is an example of excellent company culture.
Some of these great company cultures have been publicly recognized. Glassdoor recently published its Employees' Choice Awards for 2015, a list of the 50 highest-rated large and small companies in the United States and United Kingdom.
These companies know a thing or two about what makes a company a great place to work. While you don't need to be one of the companies on that list to be an organization your employees love, these companies can inspire you, your executives, and your colleagues to make your company a contender for the 2016 list.
1) Lead With Your Mission
Your company needs a purpose that not only drives its consumer brand, but its employment brand as well. It could be something like providing your customers with the best service possible or sharing your skills with those who need them. Find out what it is your company believes in and let it be the thing that gets you pumped up for work every day. Have this be the ultimate goal that everyone in your company can get behind, too.
Does your company not have a formal mission statement? That's cool, neither do we — but that doesn't mean that we don't have a shared, deliberate goal driving our business and work every day.
Need examples of amazing missions? Our CEO was really impressed by Starbucks' mission statement. And #31 on Glassdoor's list, NBCUniversal, also starts off their credo strong:
We are in business to create and deliver content so compelling it entertains, informs and shapes our world.
2) Hire A+ People
In the words of Guy Kawasaki, hiring "A+ People" means acquiring top talent by hiring individuals for not only their expertise, but their aptitude. Because when you hire great people, they hire great people too. Reviews for Bain & Company, the Glassdoor Employees' Choice #2 organization, say its coworkers make working long hours enjoyable, and that the company is great at hiring "people you want to be friends with."
Unsurprisingly, brilliant, hard-working people are highly sought after. Employees are actively poached from companies with remarkable culture. Why? Because recruiters know they possess the skill, drive, and personality to strive for growth and excellence in their jobs. Exceptional employees make the company special — not the other way around.
3) Invest in Employees
In a time when 91% of millennials expect to be at a job for less than 3 years, focusing on retaining top talent as important as finding it. Job hopping typically occurs because employees are interested in furthering their career and growing professionally, so providing ample opportunity for them to do so at your company is key for retaining and improving employee experience.
Investment in employees begins on day one of training. Apple does a perfect job of inspiring new hires right off the bat with a welcome packet that includes this uplifting copy.
Need some help thinking of more ways to invest in your employees?
Actively pay attention and recognize those who are doing excellent work and embodying your mission. IMPACT Branding & Design has employees nominate individuals once a year who exemplify their three ideals: Helpfulness, Passion, and Dependability. Their marketing director, John Bonini, was the recipient of the inaugural award for Passion, and had the honor of the achievement being named after him. When presented with the award, CEO Bob Ruffolo said Bonini's commitment to personal and professional growth has been something coworkers have admired.
Mentorship programs allow company vets to help newer hires adjust to the expectations of the company, all the while acclimating them to the culture within the company. Fostering a substantial bond between coworkers is invaluable to maintaining your company culture and encourages support between employees.
Tuition reimbursement is a big draw for both attracting and retaining ambitious and talented individuals who value professional development and learning overall. The IRS allowed employers to reimburse employees' education up to $5,250 in 2014, so working with HR to see how this program can be implemented can definitely be worth your while.
Rotational programs provide employees with the opportunity to see how the company functions from several different points of view. This SlideShare perfectly outlines the benefits of rotational programs when it comes to the encouraging motivation and professional development within a company.
4) Practice What You Preach About Work/Life Balance
The Maslach Burnout Inventory (MBI) measures three components that contribute to employees crashing: exhaustion, depersonalization, and inefficacy. In a fast-paced, high-growth organization, it's easy to feel the pressure to fill your plate with projects upon projects. We're certainly not saying that working hard is a bad thing, because, well, it's not. But working hard while also neglecting your personal life — friends, family, health — will inevitably lead to burnout … which will then lead to employee unhappiness. And eventually, those unhappy employees will be so frustrated that they'll leave.
Here's where perks can come in. Providing amenities that make the workday a little easier or more productive helps keep people happy. According to a report by Spherion, 30% of survey respondents said food availability in the office plays a significant role in their overall workplace happiness.
Some companies are well-known for their amazing employee perks like free on-site laundry, childcare services, restaurants and cafes, fitness centers, nap areas, private showers, visiting hair stylists, dental services … the list goes on and on. These perks are extraordinary, but you don't need these specific amenities at your company to make employees' lives easier. Look at your office, speak to the people there, and try to determine their pain points. Why do they run out of work at exactly 5? Is there anything they wish they had in the office? Solve for them and their needs, and happiness will follow.
5) Encourage Employees to Pursue Their Professional and Personal Passions
A recurring theme throughout this post is that at the very center of a company are its employees. In the office, these individuals dedicate their time and energy to the mission of the company. But, we need to recognize that these people are people outside of the office, too. They are individuals who have lives and interests that should benefit and flourish from their great job — not stifled by it.
In a Glassdoor review, a Google employee said that there is an "emphasis on innovation and creativity" that encourages them to focus their passions on the job at hand but also their personal projects. And at LinkedIn, they have an [in]Cubator program that originated from a weekly hack day. It allows employees to pitch projects, assemble a team, and receive up to three months to work on bringing that idea to reality.
What first attracted you to your employees was their motivation and drive. That fire should be kindled in the workplace, not stamped out.
5) Embrace Visibility, Transparency, and Accountability
Regardless of whether or not a company is publicly or privately held, transparency makes all the difference when it comes to how employees feel about where they work and who they work with. No one likes the feeling of information being withheld from them — it creates paranoia and distrust. Transparency should occur from the top down, and permeate throughout all the nooks and crannies of the company.
Keeping everyone in the loop when it comes to how the business is running unites employees. This review of F5 Networks (#4 on the Glassdoor list) perfectly describes the attitude that companies should have when they are dealing with both good and bad news: "The culture is great at identifying (really and honestly) what the sticking points are. They discuss setbacks openly and almost welcome them as the inevitable price you pay to build better stuff. It's refreshing to work in a company so motivated to deal with their own issues — and not have it just be lip-service, as in other places I have worked."
Department- and company-wide meetings do a great job of fostering a sense of community throughout the company and making sure that information is properly and honestly communicated with all employees.
6) Set Lofty Goals and High Expectations … Then Leave Your Employees Alone
In the words of Apple's Steve Jobs, "Stay hungry, stay foolish." To that we'll add, "…when it comes to your goals and expectations." As the saying goes, aim for the moon. Even if you miss, you'll land among the stars. (Not entirely accurate in terms of literal distance, but the thought's there.) Set high expectations for yourself and your team, then work hard to achieve (and exceed) them.
No one likes to have someone watching over their shoulder as they work. Assuming you hire the best of the best (which you should) there is no need to babysit coworkers and other employees. Trust that they are highly intelligent and competent individuals who will do their jobs, and then some.
There is no one aspect of a company that makes it a wonderful place to be — creating a great place to work depends on a plethora of factors. How many of these points do you see in effect at your company? Is there anything else you believe makes a company the best place to work? Let us know in the comments below.