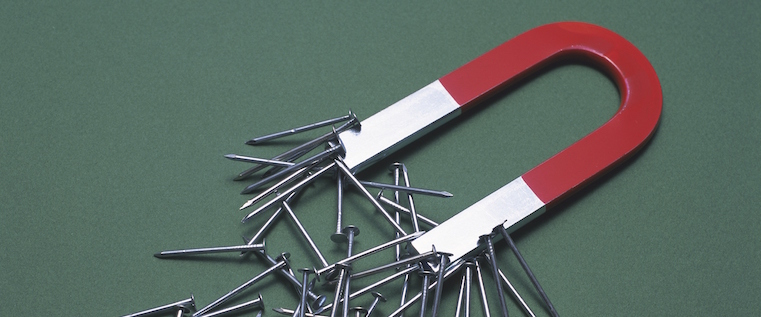 If you're serious about improving more conversions, you need to start thinking of conversion rate optimization (CRO) differently. CRO isn't just about making small adjustments to a landing page to get 5% more conversions. But if you've tried moving page elements around, tested variations of your copy, and optimized your form, but still aren't seeing meaningful conversion gains, don't worry — all is not lost.
Both large and small optimizations can make a difference, but in my experience, it's the radical optimization changes that have the highest potential to earn you more conversions. If you want to be part of the top 5-10% getting unbelievably high conversion rates, you have to be willing to try some crazy and sometimes counterintuitive things. You might find they pay off in a big way.
Before I get started, if you'd like to learn in detail about some of the most impactful CRO hacks out there, then click here to register for a webinar this Thursday, April 9, 2015 as part of HubSpot's #CRODay celebrations. I'll cover the massive changes you can make, and HubSpot's Lanya Olmsted will share optimizations large and small that have impacted HubSpot's conversion rates.
Rethinking Conversion Rate Optimization
International CRO Day (yes, it's a thing) is a fantastic opportunity to take a step back from your current conversion optimization strategy and rethink your process. It's far too easy to get stuck in the rut of trying the same optimizations over and over, hoping for different results each time.
As marketers, we've had it drilled into our heads that conversion rates of 3-7% or so are pretty good — so you might think 10% is pretty fantastic. But if you're already there, how do you know whether there's room for growth?
You might be surprised to learn that what we think of as "good" conversion rates are really just average, or in some cases even below average. In our analysis of thousands of AdWords accounts with $3 billion in annualized spend, we discovered that across industries and verticals, exceptional advertisers are converting at two to three times the average.
The median conversion rate is actually 2.35%. A full quarter of accounts have conversion rates of 1% or less.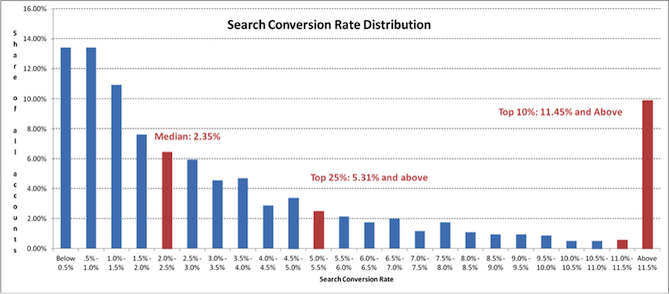 As you can see, though, the top 25% of accounts have a conversion rate of 5.31% or higher, or about twice the average. The top 10% of accounts are converting at five times greater or more than the median — these accounts have average conversion rates of 11.45% or more.
Crazy, right? It's not a fluke, and these advertisers aren't just lucky. They're consistently outperforming their competitors by magnitudes of three to five times or more.
How do they do it? And more importantly, how can you do it, too? Right now, I'll share with you one of my favorite CRO hacks: remarketing. (I'll cover nine more in Thursday's CRO hacks webinar.)
Remarketing: One Key to Improving Conversion
Remarketing is one very effective, data-backed CRO hack. While growing in popularity, this advertising tactic is still surprisingly underutilized. The percentage of marketers investing more than 50% of their digital ad budget in remarketing doubled from 2013 to 2014, but that only brought it up to 14%.
And yet, over 90% of marketers surveyed in a study commissioned by AdRoll said remarketing is as effective or more effective than email, search, and other display campaigns.
What's so great about remarketing? For starters, it gives you absolutely massive reach on the Google Display Network (over 92% of sites on the web, in fact). But other remarketing networks like Facebook and Twitter give you crazy precise targeting, as well. You can reach about 84% of the people you tag, 10-18 times per month.
Image Credit: WordStream
Visitors to your website or app are tagged and can be remarketed to, which gets your brand and messaging back in front of them wherever they happen to be on the web. It's a super effective way of reconnecting with people who have already expressed some kind of interest in your companies, products or services.
How Remarketing Moves the Needle on Conversion
Remarketing to existing site visitors obviously taps into the greater intent these people have already displayed. Beyond that though, remarketing is CRO. The fact is that the vast majority of your site visitors aren't going to convert. Why give up on them the first time they hit your landing page and leave?
Your goal with remarketing is to remind people to complete the action you want them to complete — by getting in front of them with relevant messaging and offers while they're doing things like watching YouTube videos, checking their email, searching online, checking their Facebook, and so on. If you can do that, then you can increase conversions.
Depending on how targeted you get with your audience lists and campaign types, remarketing can make a huge difference in your conversion rates. Custom printer company Storkie Express's found that dynamic remarketing campaigns yielded conversion rates 203% higher than regular display ads and 119% higher than regular remarketing campaigns. Take a look at this data from PPC Hero:
Image Credit: PPC Hero
One account had a conversion rate of 1.86% for their remarketing campaign, while the regular display campaign's conversion rate was 1.19%.
Here are a few of the other benefits of adding remarketing to your CRO arsenal:
Increased brand exposure, keeping you top of mind among those already engaged in some way with your business.
Precise targeting, with the ability to exclude audience segments that you may have identified as less likely to convert or more likely to waste a click.
"Stickier" ads, as the CTR of remarketing ads stays high even as you might expect ad fatigue to set in. A user is still far more likely to engage with a remarketing ad even after having seen it six times before than they are with a brand new generic display ad.
Greater engagement, giving you the opportunity to have leads complete a series of increasingly lucrative small conversions (sign up for email, download an ebook, etc.) on their path-to-purchase, or to convert to a sale.
Better ROI, thanks to your ability to know your audience and speak more directly to each segment through targeted copy.
You can also count on lower costs-per-click, thanks to the higher CTR inherent to marketing to people already more motivated than the average ad viewer. Higher CTRs positively impact your Quality Score in AdWords and tell ad networks that your ads are highly relevant, which is typically rewarded with reduced costs per click.
In addition, returning visitors are more likely to be engaged with your site than new visitors, especially if you refine your audience to people who visited a certain product page, put an item in their cart, and so on.
Remarketing is one of my favorite CRO hacks, but it's just one of the ten little-known and super effective tactics Lanya and I are sharing in our April 9th #CRODay webinar, so be sure to register.
We've run dozens of tests to prove these unconventional CRO hacks and can't wait to walk participants each one. We're going to challenge everything you think you know about conversion and give you a radical new view of the conversion formula. You're going to take away CRO tactics built on a solid foundation of marketing psychology and proven in extensive testing by HubSpot and WordStream. See you there!