Finding stylish fonts for your design projects can be a major time sink — especially when you have to wade through seemingly endless pages of typefaces that don't suit the vision you have in your head.
Finding a free font can be even more of a hassle.
So what's a budget-strapped designer to do?
We've scoured the depths of the internet so you don't have to, coming up with 27 of the best free fonts you deserve to have on your computer. Here's how we sorted them:
Free Scripts
Free Serifs
Free Modern/Sans-Serifs
Good Fonts for Logos
Old-Fashioned Fonts
Many of the free fonts featured here were developed by designers, for designers, so they understand the need for versatile, polished, free typefaces firsthand. Check out the fonts below and keep them in mind for your next design project.
27 of the Best Free Fonts for Designers of All Skill Levels
Free Script Fonts
What happens when you combine Scandinavian minimalism with classic brushstrokes? You get Hello Stockholm, a casual script that plays well with sans-serif fonts.
We think this whimsical, light-weight script would look right at home in a fairy tale (or in your next project).
Subtle hand-drawn details set this script apart from the pack. Mightype is sophisticated without being stuffy.
Selima's breezy brushstrokes are perfect proof that script typefaces don't have to look old-fashioned or uptight — they can be casual and modern.
Free Serif Fonts
From small print to bold headlines, multi-tasking Oranienbaum is up to the challenge.
A decidedly modern serif typeface, Butler comes in 14 different weights to suit a wide variety of different uses.
If you're looking for a slab serif font with a modern edge, give Arctic a try. It's a great way to give your headlines some character.
We love the versatility of Bitter ht, a contemporary serif typeface that looks stylish at any size or weight.
With bold lines and contrasting stems, this elegant font is a fresh take on old-fashioned serif typefaces.
If you're concerned that serif typefaces come across as too uptight or formal, consider Yeseva, a laid-back option for headlines and subtitles.
Free Modern Fonts
Have you exhausted your library of simple and free sans-serif typefaces? Add Moon to the mix. We love this font's clean simplicity and round edges.
This all-caps font was designed with bold headlines and big type settings in mind.
Clean, minimal, and geometric, Alcubierre is well-suited to projects that require subtle headlines and a clear focus on the content.
Inspired by — you guessed it — classic bourbon labels, this sans-serif has a big personality that demands attention.
Frontage Outline is reminiscent of handcrafted facade signs, making it a suitable pick for logotypes.
Arciform might be simple, but this sleek sans-serif is far from boring. Consider including this easy-to-read typeface in your next web design project.
This cool typeface is decorative without being over-the-top, making it ideal for headlines, logotypes, and other design projects that focus primarily on the text.
Good Fonts for Logos
Give your next project an outdoorsy, authentic feel with this hand-painted brush sans, which makes for a playful logo as well.
Atami's numerous weights and display options make it the Swiss Army Knife of modern sans-serifs — it can really do it all for a rising brand.
Anders just might be the avant-garde font of your dreams. It's unique geometric lines make it an excellent choice for logotypes.
Westmeath adds a dose of swagger to an otherwise basic font, making a logo that uses this font both legible and stylish.
Polya is perhaps the most interesting font we could find. The webbing of each letter makes for a truly mesmerizing logo.

Old-Fashioned Fonts
Horizon is a simple but retro font that elicits images of an old outer space movie. And yet, it still holds up.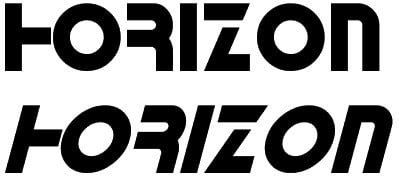 Similar to Horizon, ITC Bauhaus has a rounded, retro look that comes in numerous thicknesses. Thicker versions look like the header of an old playbill, while thinner styles give off a jazzy vibe.
Bobbers is a script font that has the goofy and over-the-top qualities of an old sitcom. Bring it back from the 1970s in your next design project for a truly confident header.
The haunting glow of FF Blur reminds us of an old horror movie. But it might be just soft enough to intrigue the audience of your next project.
No list of old-fashioned fonts is complete without the old-English stylings of Canterbury. Emulate many of today's most famous newspaper logos with this traditional typeface.
We hope you find these fonts helpful — but because they are offered by other parties on their sites, we can't make any guarantees or promises about them (like that they will be available or free to use).
Also, we want to mention that the designers who offer these fonts might have rules about how you can or can't use them, so there might be limitations that are applicable to use of the font.
Want more font tips? Check out this tip for identifying the name of a font.